EASTERN WISCONSIN'S MOST RELIABLE MANAGED SERVICES PROVIDER (MSP) FOR SKILLED TRADES
Skilled Trades Businesses
Ontech offers custom managed service solutions based on your needs. With a wide range of options, you can choose from around-the-clock support to a set number of monthly hours.
Driving Cost-Competitive Efficiencies
The mobile technological revolution stems from customer demand for convenient, cashless mobile transactions, which serve as the backbone for the leading companies in skilled trades. The more control field technicians have over communication and payments, the better customer service they can provide and the more efficiently they can keep ERP and CRM systems up to date.
With a managed IT services partner at your side, skilled trades will always have the best technology solutions for their business model, top of the line security measures and backup solutions, and 24/7+ support. Efficiencies gained in the field or on the plant floor will help businesses remain cost competitive in the market.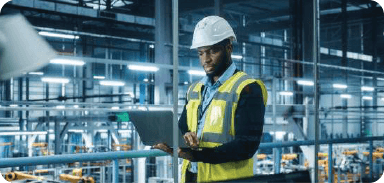 Heating, and Air Conditioning (HVAC)

Manufacturing & Machinery

Landscaping Services

Engineering Services

Electrical Contractors

Construction
Best-In-Class Solutions & Complete Transparency
As cloud computing has become more prevalent over the past few years, cyber-attacks have evolved to become a dangerous threat to every business.
Managed IT services allow you to stay ahead of the curve by becoming proactive instead of reactive. With predictable monthly expenses, managed services make it possible to streamline IT resources and gain peace of mind.
With cyber threats like ransomware, malware, phishing and social engineering more prevalent than ever, Ontech has you covered.
Our cybersecurity solutions are backed by our SOC facility, staffed 24/7 with a team of cybersecurity experts who can quickly address threats. Together, we provide a powerful combination of software and services to keep your network secure.
At Ontech Systems, we know that not all business needs are the same. We offer a wide range of managed IT options – from 24/7 support to a set number of hours each month. We also create custom solutions based on your specific managed IT service needs. We're not a one-size-fits-all solution.
Defend Your Network with the Best Technology & Staff in the Industry
If you're new to managed IT services, you may not realize the support offered from one managed service provider to the next is not apples to apples.
Ontech's managed IT services are ideal for small and medium sized businesses who prefer fixed, predictable billing.
This service allows businesses to effectively budget for their fluctuating IT expenses and minimize technical issues with ongoing network monitoring and management.
Mobile device management (MDM)
Managed remote monitoring & maintenance
Business continuity & data recovery
Managed cloud services
Managed network security
Help desk – SLA backed 24/7 support
With managed IT, if problems do arise, they are dealt with quickly as systems are already in place to resolve the issue.
We understand an unreliable IT infrastructure can directly result in lost money or opportunities. As your trusted managed services provider, we can provide a full suite of next-gen endpoint security, backup monitoring and disaster recovery, and detailed reporting solutions.
Enterprise Managed Services
CUSTOM DESIGNED, PROACTIVE SUPPORT FOR YOUR UNIQUE IT CHALLENGES
At Ontech, we know the IT challenges of enterprise scale businesses can be unique. Whether you need full NOC and managed services support or are seeking a hybrid model to support your existing IT team, we're here to help!
We can provide you with superior, 24×7 coverage though our Remote Monitoring & Management (RMM) tools, while allowing your business to have consistent, predictable monthly IT costs.
Our Enterprise Managed Service offerings include:
24×7 coverage and support on all devices of your network
Global Help Desk: 24×7, Business Hours, and off hours options available
Mobile Device Management Solutions
Plus many more…
Contact a local Ontech account manager today to discuss our Managed Services offerings.
Why Ontech Systems?
Founded in 2004 and located in Menomonee Falls, Wisconsin, Ontech Systems provides comprehensive technical solutions for small and medium-sized businesses throughout Eastern Wisconsin.
Serving greater Milwaukee for over 15 years

98% client retention rate

Complete transparency & flexible commitment options

Local IT support with 24/7 support availability